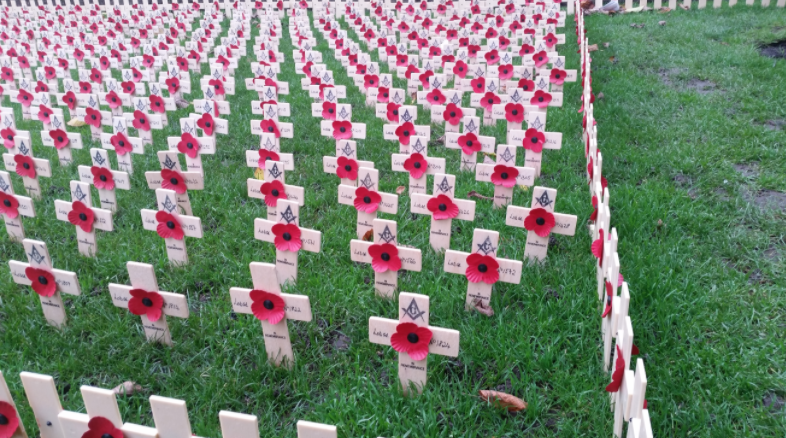 Many of you will know that every year the Grand Lodge of Scotland (GLoS) plants a Poppy Cross for every Scottish Lodge in the Poppy Garden, Princes' Street Gardens, Edinburgh (below and beside the Walter Scott (1771 – 1832) Monument which is very fitting as he was a Scottish Freemason).
The GLoS plants the Poppy Crosses on behalf of all Scottish Lodges in order to commemorate the huge number of Scottish Freemasons who have served their country and especially those who have made the ultimate sacrifice – including many Scottish Freemasons who were awarded the Victoria Cross.
Each Poppy Cross is marked with the Square, Compasses and Letter 'G' together with the number of the Lodge.
I have attached a picture that I took on Sunday while in Edinburgh. If you look closely you can see the one representing ourselves "1572". Four others I believe were purchased via the Lodge for personal messages. I have to say I was quite overwhelmed. When you consider each of those poppies is the loss of a dear loved one and then you realise that this is but a very small percentage of the total loss. Lest we forget indeed.
This year the planting of the Poppy Crosses took place on Friday, 28 October. The Poppy Garden formally opens to the public on Monday, 31 October and remains open until Remembrance Sunday, 13 November (this year 2016). The crosses are then removed on Monday, 14 November.
The Grand Master Mason, Brother Charles Ian Wolrige Gordon of Esslemont, lay a wreath on behalf of Scottish Freemasonry at the City of Edinburgh Council Chambers on Sunday, 13 November at 11.00 am.
All the Lodge Poppy Crosses are paid for by GLoS, however in addition, Lodges in Scotland receive a small box of Poppy Crosses directly from Poppy Scotland so that individual Freemasons in Lodges can have the opportunity to take a cross, and make a donation, in memory of a relative, friend, or colleague. A number of Lodge Bearsden Brethren take up this opportunity to pay a personal and humble respect to loved ones who were close to them.
The GLoS is proud to be one of the major contributors to this charity. Lodge Bearsden as a daughter Lodge, endorse this view and ask you on behalf of GLoS to enthusiastically support this worthwhile cause in future years.