Ben Nevis, stands at 1,345 metres (4,411 ft) above sea level, it is at the western end of the Grampian Mountains in the Lochaber area of the Scottish Highlands, close to the town of Fort William. It is Great Britain's highest mountain.
When Past Master Brother Derek Malaney was looking for an initiative in an effort to raise funds for the Provincial Grand Master's Charity Visibility, he decided that this would be a worthy challenge

Brother Malaney, enjoys a good walk, but could not be considered a serious hill climber, never mind a mountain. Recognising this, he enlisted the support of two of his sons for support Glen and Colin, who have youth and valuable mountain climbing experience.

Brother Malaney picks up the story;
We left early around 0500 from Bearsden to drive up to Ben Nevis, stopping in Fort William for some breakfast and set off on the climb at around 0830 in good spirits and with reasonably fine weather. 
I found the going quite tough, tougher than expected. At 1000 feet, I started to appreciate the task I had taken on board and was concerned  that my slow pace might hamper reaching the summit and getting back down in daylight. Glen re-assured me that time-wise we were good.
By the time we reached 2000 feet the wind was picking up considerably, gusting at 45 knots. Yes, into our face as we climbed. Rain was to follow as the mist descended on to us. With my glasses steaming, it was a touch ironic, I was starting to appreciate, albeit temporary, the impact of sight disability.

With a few quick stops to catch breath, we reached just over 3000 feet and admit I was struggling and really started to seriously consider admitting defeat. My Boys were great though and gave me plenty of encouragement to go on.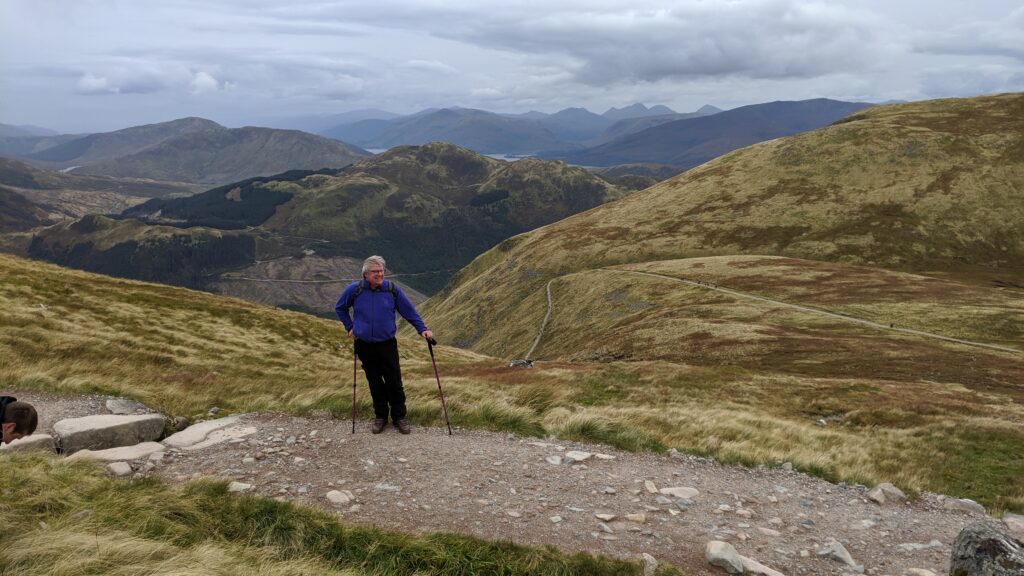 The weather continued to deteriorate and by the time we reached the Kilns, I was really running on empty. Glen had instrumentation to tell us how high we were, but with the mist we couldn't tell how far we had to go. A climber on the way down told us that we were almost there – about 10 minutes. If he had said 20 or 30 minutes, I would had to have admitted defeat, but we pressed on and reached the top, with next to no visibility.
Mission accomplished and having given a few Facebook updates on the way up, I was happy to see my labours were being well rewarded.
To all the very generous sponsors a heart-felt thanks from the bottom of my heart. To my Sons Glen and Colin thanks for supporting your Old Man, I could not have done it without you.
On 2nd November 2019 at our Annual Installation, The Lodge faithfully applied a donation of £820 to Visibility Scotland via The Provincial Grand Master's chosen Charity. A tremendous effort.